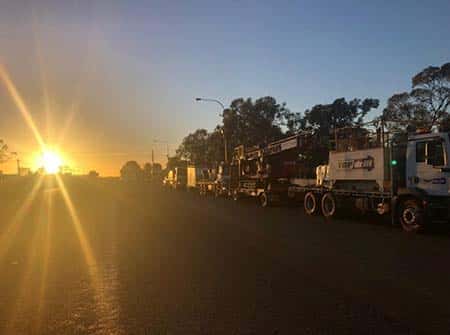 Topdrill, as a business, is defined by the desire to be industry leaders in the areas of innovation, safety, diversity and productivity. We are driven to to meet the varied needs of our clients and to provide rewarding and sustainable employment to our team.
In 2006, Tim Topham started Topdrill with a single RC rig with 2 employees operating out of a small yard in Kalgoorlie, Western Australia. Since then, the business has grown into a diversified drilling services provider offering Reverse Circulation, Diamond and Air Core drilling to a broad client base and holds long-term contracts with many top tier mining companies throughout Western Australia and the Northern Territory. Topdrill currently has a fleet of 17 rigs and over 150 employees. Our rigs are all late model and utilise industry leading, hands free rod handling systems. We are also an equal opportunity employer with a high proportion of our field based staff being female.
To put it mildly, things have changed greatly over the years. What hasn't changed however is the undeniable fact that a business can only be as strong as the people that work there. Topdrill is its people. The business has been able to expand due to a focus on employing motivated individuals with honest work ethics and training them to function safely and efficiently as part of a team. It is these teams and their professionalism and skillsets that allow Topdrill to successfully deliver on the most challenging of jobs time after time.
Topdrill has also stayed true to its origin in the Goldfields. The yard might be bigger but the commitment to supporting local businesses and trades and maintaining an ongoing involvement and sponsorship of local events, charities and initiatives remained and has also grown in line with our expansion.